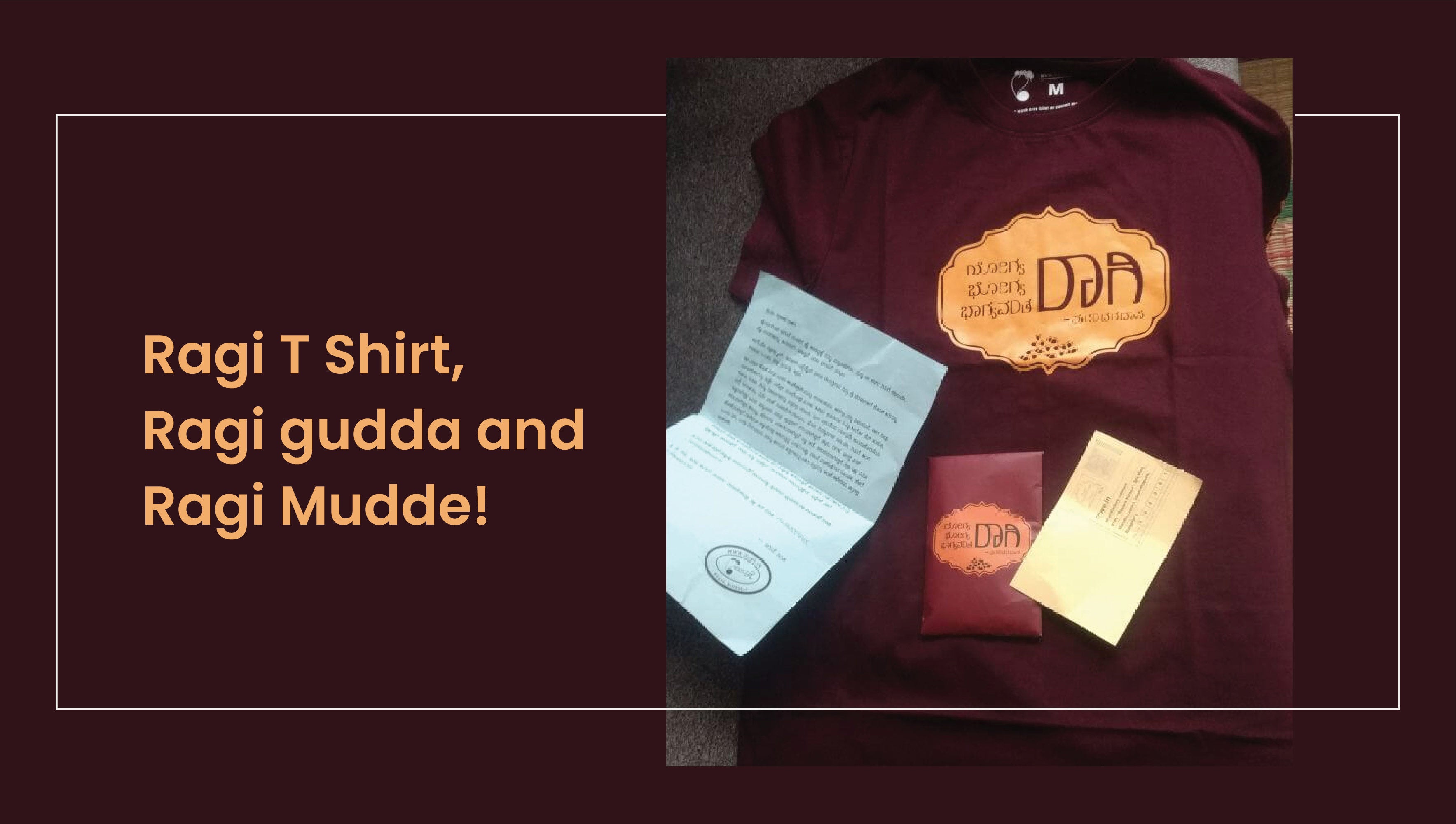 I heard the song "Ragi Tandira" in my Music class where my music teacher would sing it very melodiously and that instantly became my favourite. I liked it even more because I am from Ragigudda. Yes, there is a place in namma BengaLooru called Ragigudda. The same area which is extravagantly called central mall area in Jayanagar 9th block. Coming back to the story of RagiGudda, the literal translation of the name is hillock of Ragi. I was intrigued when my thaatha, the story teller of the house used to always write the landmark to our house on the postcards as 'Near Ragigudda Temple'. Our area is completely on the hillock and its black. I used all my intelligence to decipher why it is called so and hence came up with the weirdest logic of black hillock should be named as ragi gudda. My mother and her family always ate ragi once a week, she tried implementing in our house which turned out to be a disaster though my paternal family claims to have been having habits of villagers no they don't eat ragi mudde. My thaatha who always never encouraged fighting exclaimed: "Oota tannichhe" ( Food is our preference). So it was a delicacy only in Ajji mane in Katriguppe(that's another story, would write it soon). But I never knew why our area was called Ragigudda.
My thaatha used to tell me a story every night and only then I slept. So much was the discussion that sometimes I would not let him sleep. One day I asked this story. He started that this place where we stay in Jayanagar 9th Block 1000's of years ago was ragi field owned by a PaaleGaara. The wife of him was a very ruthless lady with a daughter in law as soft as cotton. The daughter in law was a pious lady and she offered food to needy people regularly. One day the mother in law did not want her to do such activities anymore. She stopped her. The trimurthis wanted to check how the daughter in law would still continue her offering after this condition. They came in the form of beggars and asked her alms. The daughter in law tried offering Ragi which was left in the kitchen, the mother in law noticed and stopped her. She verbally abused her and shooed the beggars away. The trimurtis got angry and showed their real form. They gave a course that whole ragi field, heaps and heaps of ragi stored would turn to stone. The PaaleGaara came running and fell at their feet, saying the place should not be cursed and everyone apologized. Hence the trimurtis also said they would stay in this area in the form of stone. These are called "Daasayyana Bande" even now behind the temple and those three stones are carved as the Trimurtis. After finishing the story thaatha asked me like always, " Guddi, what is the moral of the story?" I stupidly remarked "Thaatha we are in a cursed place, but God stays very close to us" and such lame answers. Thaatha disappointingly said, "Guddi if you have something in excess and you are in the position to give, and even if you cannot part with something you should give and if you don't it as useless as stone". I was in awe and I agreed instantly that I would follow the same. Coming back to the song, this my thaatha used to explain how philosophically ragi is used in the context and tells simple principles. This was my favourite story and song(of course the Carnatic classical style) in my childhood and tell every single person who would visit my house. Once I made up a story to a younger cousin the song was written on Ragigudda and got scolded royally by thaatha. This T shirt in Iruve brought fond memories of the song and story. The discussion in the Whatsapp group of my childhood buddies "Ragigudda Peeps" was that for a long time how we could all wear this T shirt and take a picture someday in ragigudda because all of us are in different part of the world.
Well Iruve, make more such T shirts and Vasu Dixit Saar you are bombaat!. Thanks for bringing such complex philosophy in simple terms to all of us.
I love Ragi (T shirt, Song,Gudda,Mudde and rotti).
Apr 27, 2020

Category:

News
Comments: 0